MOPAR Power Steering System Flush, Fluid Exchange & Conditioning
Power Steering & Power Steering Fluid
Power Steering is like a robot assistant that helps you turn the wheels while you exert little force. When you turn the steering wheel to go around a corner, the power steering pump jumps into action by amplifying the force generated at the wheel. The power steering pump relies on power steering fluid that is a hydraulic liquid responsible for transferring energy into the rack, pinion, and steering shaft. Although every component in the power steering system can start to show signs of wear and tear and require replacement, it is the power steering fluid that is the weakest link because it can become contaminated and will need to be exchanged. And while we're at it, we'll make sure that you receive Power Steering Fluid with conditioning. Power steering fluid with conditioners will help keep the power steering system quiet with conditioned seals preventing leaks.
Schedule Service
What are the Signs of a Power Steering System Problem?
When you start to develop a problem with your power steering system or one of its main components, it will usually be obvious. Here are the five primary symptoms of a Power Steering System problem:
Noise: high-pitched squealing, whining, or humming while turning
Vibration or shaking in the steering wheel
More difficult or impossible to turn the steering wheel
Power steering fluid is darker than usual
Power steering fluid has no smell
If you have any of the following signs of a Power Steering problem, you'll want to schedule a Power Steering System Flush, Fluid Exchange & Conditioning Service to restore your vehicle to factory specifications.
Schedule Service
Why is a Power Steering System Flush & Conditioning Important?
A Power Steering System Flush, Fluid Exchange, and Conditioning Service will restore your Chrysler Dodge Jeep Ram vehicle to factory specifications and ultimate power steering system cleanliness. The service is comprehensive and will remove all of your old power steering fluid and clean the entire system to the max. Draining and refilling power steering fluid without flushing will leave some unwanted contamination. By flushing the whole power steering system, we know that all of the contaminated power steering fluid is removed and won't be able to cause any more problems. Scheduling your Power Steering System Conditioning will help prevent leaks, provide a smooth ride, and help keep the system quiet when it is hard at work.
---
Los Angeles Chrysler Dodge Jeep Ram Service Center Amenities
Kids Play Area
Complimentary Beverage & Coffee Bar
Complimentary Snacks
Beautiful New Facility
Luxuriourus Waiting Lounge
Vending Machines
Certified Mopar Technicians
Friendly and knowledgeable Service Advisors
---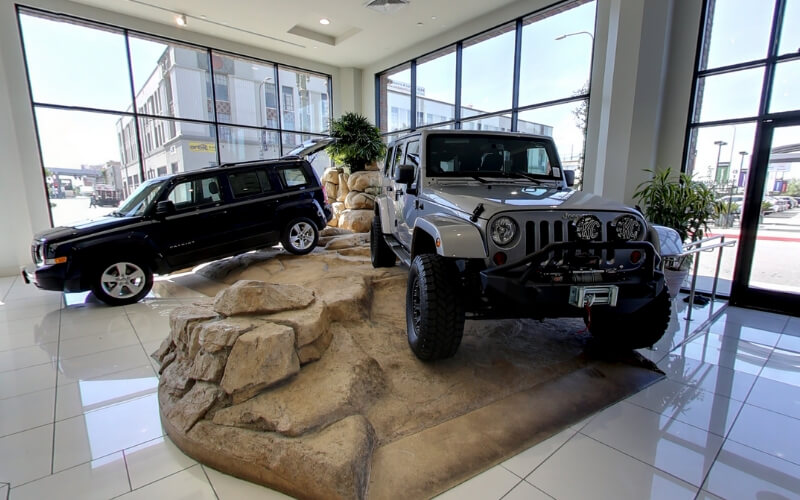 ---
---
Dealer Wallet Service Marketing & Fixed Ops SEO by
---