Fuel System Cleaning, Fuel Injector Cleaning & Throttle Body and Intake Cleaning Service
What is a Fuel System, and why does it need Cleaning?
The engine requires fuel to generate power, and the fuel must be stored and delivered as needed when you press on the gas pedal. Fuel is stored in the fuel tank and is pumped through a fuel line by the fuel pump into the throttle body and fuel injectors where fuel is mixed with air and burned in the combustion chamber. The fuel system is durable in design but is not everlasting in terms of construction. The best fuel system is a clean fuel system closed to outside influence. Fuel System Cleaning, Fuel Injector Cleaning & Throttle Body and Intake Cleaning Service is the absolute best way to make sure that the Fuel System is sparkling clean at factory specifications.
Schedule Service
What are the Symptoms of a Filthy Fuel System?
A filthy fuel system will usually show up as one or more engine performance problems. At Los Angeles Chrysler Dodge Jeep Ram, our crew of certified technicians knows that several common engine-performance symptoms emerge when there is a dirty fuel system. Here are the most common symptoms of a filthy fuel system:
Rough idling
Failed emissions test
The engine is not able to reach optimum RPM
Increased fuel consumption / decreased fuel efficiency
Poor throttle response
Poor engine performance
Schedule Service
Focus on Fuel System Cleanliness with a Genuine Fuel System Cleaning Service
Unwanted contaminants are going to be in fuel; there is no escaping that fact. Even filling the tank with the most expensive fuel and using additives every time will still leave the fuel system at risk for deposit accumulation. When the fuel flows through the fuel system, the contaminants will collect together and form into deposits. Since we have no control over the fuel additives and detergents before we meet at the pump, we must focus our efforts on keeping the risky narrowest portions of the fuel system nice and clean. Although a fuel system cleaning is comprehensive in cleaning every component, it is critical that the narrowest passages are cleaned thoroughly using specially designed solvents for cleaning fuel detergents and additives that accumulate. That is why Fuel System Cleaning includes the fuel injectors, throttle body, and intake to ensure the fuel system's narrow passages are sparkling clean.
---
Los Angeles Chrysler Dodge Jeep Ram Service Center Amenities
Kids Play Area
Complimentary Beverage & Coffee Bar
Complimentary Snacks
Beautiful New Facility
Luxuriourus Waiting Lounge
Vending Machines
Certified Mopar Technicians
Friendly and knowledgeable Service Advisors
---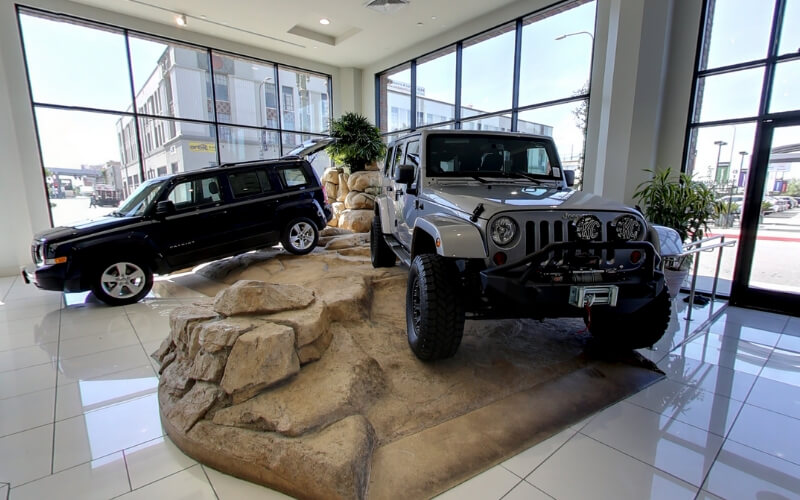 ---
---
Dealer Wallet Service Marketing & Fixed Ops SEO by
---