Air Conditioning Performance Service
Chrysler Dodge Jeep Ram A/C Performance Service in Los Angeles, CA
Your car air condition system is used in all seasons - not just in the summer for cooler air while you drive. In winter and when it rains, it works to defog your windshield for safe driving, in the summer and other warmer months it keeps you cool. No doubt it is mostly used in the summer, but really, it should be prepared for all seasons. A simple air conditioning performance check done by our professionals can ensure your AC is ready to be fired up for whatever the cause.
Schedule Service
Signs your AC needs a Performance Check:
It won't start
There is a noticeable difference in cooling - this is an obvious sign, and one to not be ignored. If your air movement feels minimal, regardless of how high you turn up the air and it doesn't feel as cold as it should, bring in your car for our AC performance check.
There is a loud noise when AC is in use - as most things used in your vehicle, wear and tear gets the best of everything and can cause different components to eventually fail and need to be replaced.
Is there a leak? Even if everything is in great shape, there could still be potential for a refrigerant or oil leak. A refrigerant leak will obstruct the whole AC system and not allow is to perform well at all.
If any of these signs are apparent whenever you turn on your air conditioning system - don't risk it. Bring your car in to see the professionals at Los Angeles Chrysler Dodge Ram and Jeep for an A/C performance checkup.
At Los Angeles Chrysler Dodge Ram and Jeep, we perform these air conditioning performance checks to ensure that you either experience none of the above, or if you are, to help prevent this from damaging any other part of your vehicle.
Schedule Service
Have your A/C Checked Out at Los Angeles Chrsyler Dodge Jeep Ram
During these performance checks we look at how well air flow circulates at different levels of assertiveness. Does the air properly increase when you turn the AC on high? We check that the air is producing the right temperatures - so when you put it to 50 degrees, you're not getting something warmer.
Your car air conditioning is made of various parts - AC evaporator, compressor, condenser, lines or fittings and more. Our factory trained and certified team works to make sure that these are all functioning as well as they should.
The team at Los Angeles Chrysler Dodge Ram and Jeep is happy to be the go-to service center for all service and maintenance needs for drivers in the Huntington Park and Lynwood, CA area.
---
Los Angeles Chrysler Dodge Jeep Ram Service Center Amenities
Kids Play Area
Complimentary Beverage & Coffee Bar
Complimentary Snacks
Beautiful New Facility
Luxuriourus Waiting Lounge
Vending Machines
Certified Mopar Technicians
Friendly and knowledgeable Service Advisors
---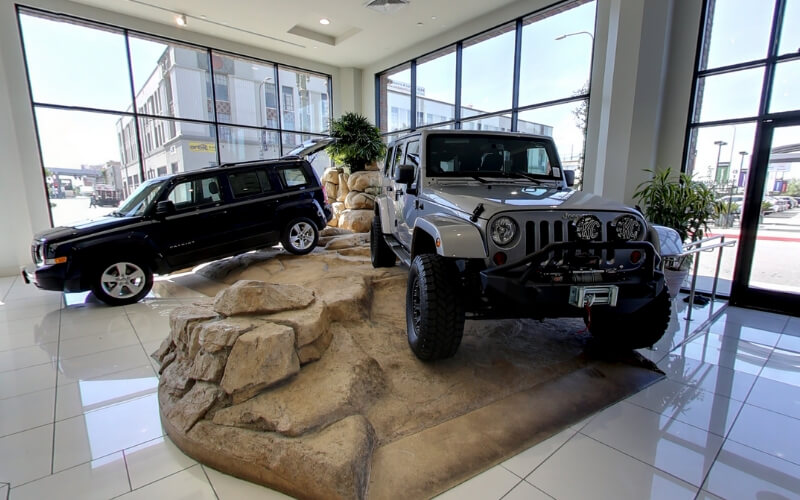 ---
---
Dealer Wallet Service Marketing & Fixed Ops SEO by
---