Tire Pressure Monitoring System (TPMS) Repair
Tire Pressure Monitoring (TPMS) 101
Almost every newer model car, truck, van, crossover, and SUV are designed with a Tire Pressure Monitoring System that constantly evaluates tire pressures and sends the tire pressure data to the electronic control unit where the results are displayed as needed on the driver's dashboard. If tire pressures are outside of factory specifications, an alert is sent to the driver signaling that tire pressure(s) are out of range and require tire pressure adjustment. About 99% of the time, the warning signal will be for low tire pressure because tires tend to lose air over time. The Tire Pressure Monitoring System has a few vital components that might become faulty and require repair. If you ever have a problem with your TPMS, gain peace of mind with a Tire Pressure Monitoring System Repair at Los Angeles Chrysler Dodge Jeep Ram.
Schedule Service
Signs of a Faulty Tire Pressure Monitoring System
Tire Pressure Monitoring relies on a battery-powered radio transmitter installed on each wheel that constantly assesses tire pressure and sends the data to the electronic control unit. The Tire Pressure Sensor at each tire is constantly exposed to dirt, rocks, and heat, which can threaten the sensor's performance. The weakest link in the TPMS is the radio transmitter positioned on each wheel. However, there are several additional vital parts that help the TPMS provide accurate results to the driver including the microcontroller, low frequency receiver, voltage regulator, and analog-digital converter. Given the complexity and electrical nature of the TPMS, it is always best to have a certified technician provide you with a Tire Pressure Monitoring System Repair. Here are the most common warning signs that you need TPMS Repair:
Check engine light
Tire pressure sensor warning light
Improper warning
You notice a tire with low pressure but the TPMS does not
Schedule Service
Checking the TPMS Monthly
At Los Angeles Chrysler Dodge Jeep Ram, we recommend monitoring your TPMS with a monthly analog verification of your tire pressure. If the analog reading matches the dashboard results, there is proof that the TPMS is working properly. However, if you have a warning sign that the TPMS is faulty or if your analog verification reveals a problem, we recommend scheduling a Tire Pressure Monitoring System Repair today to correct the problem and restore your TPMS to factory specifications.
---
Los Angeles Chrysler Dodge Jeep Ram Service Center Amenities
Kids Play Area
Complimentary Beverage & Coffee Bar
Complimentary Snacks
Beautiful New Facility
Luxuriourus Waiting Lounge
Vending Machines
Certified Mopar Technicians
Friendly and knowledgeable Service Advisors
---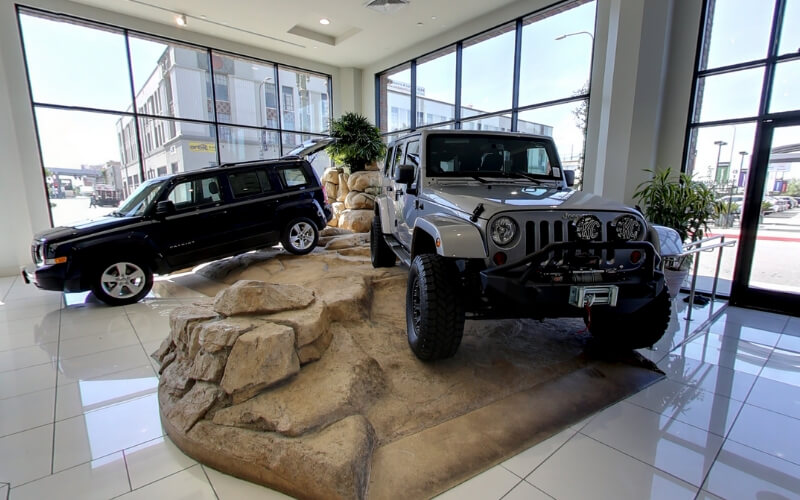 ---
---
Dealer Wallet Service Marketing & Fixed Ops SEO by
---