MOPAR Tire Balance Service
Tires & Balance
Every tire gets installed onto a rim to create a wheel-rim assembly where the rubber meets the road. Balance is the word that describes how each tire's weight is distributed equally around the center. Tire imbalance occurs when the weight is distributed around the center unevenly. When there is more weight in one area of the tire-wheel assembly, spinning at incredibly high speeds will cause a wobble, shake, or shimmy. Wheel imbalances occur naturally over time due to a variety of factors. When new tires are installed, they are balanced to get you a smooth ride and extended tire life. However, factors like uneven tread wear, hitting a curb, or dents and dings in the wheel rim will cause tires to get out of balance. When you have any tires out of balance, you will start experiencing one or more of the warning signs telling you to schedule a Tire Balance Service. We designed our Approved Tire Center with value-added savings in mind for our customers.
Schedule Service
Signs that I need Tire Balance Service
Tire imbalance is a significant threat to your driving experience, tread wear, tire life, and budget. If you have any of the signs of a Tire Balance problem, don't worry; fixing tire imbalance is quick, convenient, and price-effective at Los Angeles Chrysler Dodge Jeep Ram. Here are the common signs of tire imbalance requiring Tire Balance Service to fix:
Vibration in the steering wheel
Shaking in the floorboard, usually getting worse at higher speed
Rapid tire tread wear
Uneven tread wear
Reduced fuel efficiency
Schedule Service
Tire Balance Service at Los Angeles Chrysler Dodge Jeep Ram
Tire Balancing begins with an expert technician, a computerized wheel balancer, small wheel weights, and a certified service protocol. Schedule an appointment today so every tire is inspected first to ensure passenger safety. Any faulty tires are replaced with genuine manufacturer-approved tires as needed to restore your vehicle to factory specifications. Every tire-wheel assembly is then placed on a computerized wheel balancer that tells the expert technician where to place a metal weight of precise mass to get a perfect balance. When the tires are removed, it gives the technician the opportunity to inspect the brake system including brake pads and steering and handling components.
---
Los Angeles Chrysler Dodge Jeep Ram Service Center Amenities
Kids Play Area
Complimentary Beverage & Coffee Bar
Complimentary Snacks
Beautiful New Facility
Luxuriourus Waiting Lounge
Vending Machines
Certified Mopar Technicians
Friendly and knowledgeable Service Advisors
---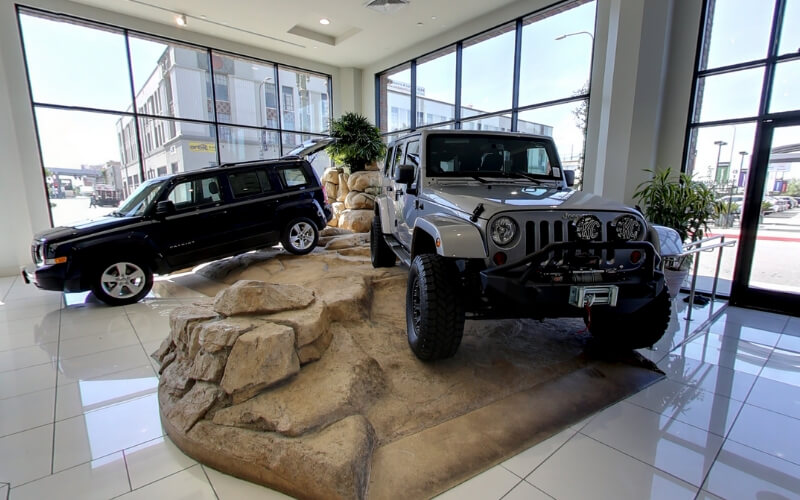 ---
---
Dealer Wallet Service Marketing & Fixed Ops SEO by
---